Directeur(trice) Plaidoyer Ixelles
Description de l'ASBL, institution
DUO for a JOB IS LOOKING FOR A DIRECTOR OF ADVOCACY

DUO for a JOB is an association that was founded in November 2012. It carries out intergenerational and intercultural mentoring by bringing young people with a migrant background into contact with professionals over 50 years of age for advice and support in their job search.
Through its mission, DUO for a JOB aims to reduce inequalities in access to the labour market for young people with a migrant background, to give greater value to our elders, to encourage diversity and intergenerational action, and finally to counter racism by rebuilding social ties and local solidarity.
The organisation is active in Brussels, Wallonia, Flanders and recently opened a branch in Paris. It aims at opening branches in other countries in the years to come. The team is composed of 42 employees, and a team of 150 volunteers, in addition to the 900 volunteer mentors. Since the creation of the project, DUO for a JOB has created 2200 duos, of which nearly 3/4 of the mentees have found a job, internship or training.
More information : www.duoforajob.org or www.facebook.com/duoforajob.
---
Poste à pourvoir
Contrat : Temps plein - CDI
Through its advocacy strategy, DUO for a JOB aims to consolidate its experience and develop its expertise on issues related to equal opportunities, social and professional integration of young people with a migrant background, social cohesion, active ageing and mentoring in general. On this basis, the organisation looks to formulate specific recommendations for the public authorities and the private sector in order to encourage the transition towards a future that welcomes, embraces and reaps the full benefits of its beautiful diversity.
Under the guidance of DUO for a JOB Deputy Director, the Director of Advocacy's main responsibilities will include :
• Develop and implement key messages and, more broadly, the advocacy strategy.
• Establish relationships with the aim of facilitating the transfer of DUO's expertise and formulating recommendations to companies, political representatives, public institutions and non-profit organisations.
• Contribute to raising awareness among the general public on the above-mentioned topics.
• In collaboration with the Regional Directors, develop sustainable sources of public funding.

In addition, the Advocacy Manager will support the Communication department for the dutch-speaking part of their activities.

Responsibilities

• Participate in the definition and targeting of advocacy messages to raise awareness at local, national and international levels on topics related to DUO for a JOB's mission
• Prepare advocacy analyses and written content for internal and external use (briefings, reports, position papers)
• Identify key opportunities in the short and long-term in which DUO for a JOB can influence policy processes
• Develop and maintain the network of relationships with local, regional and national authorities, companies, and other public and associative stakeholders to share DUO for a JOB's priorities and make related recommendations
• Establish working relationships with relevant local and regional non-profit organizations, think tanks or academic institutions active on similar topics
• Perform targeted research and provide data analyses related to the local context to support branches operational strategy
• Analyse internal and external data in order to provide reliable information for the development of advocacy message
• Undertake stakeholders' analysis (power, resources, and key actors) seeking to provide a better understanding of local dynamics to improve operational and advocacy responses
• On demand, act as a spokesperson (presentation, conference, press, meetings, workshop, etc.)
• Advise management to ensure meaningful engagement with key actors and institutions
Given the rapid evolution of the project, a high degree of flexibility will be required regarding the roles that the Director of Advocacy will assume as his or her responsibilities and roles may evolve with the development of the association.
---
Profil recherché, Compétences, Formations, Expérience
• Real motivation to commit to a project for an inclusive society where everyone can find their place
• Professional experience of at least 5 years in this field of activity
• Fluency in French, Dutch and English, both written and spoken
• Strong writing, communication and negotiation skills
• Knowledge of issues related to migration, employment, and inclusion.
• Knowledge of Belgian institutional and political structures
• Rigour, precision and excellent planning skills
• Results-oriented and above all solution-oriented
• Strong teamwork skills
• Autonomy and flexibility.

What DUO for a JOB offers you :

• A full time permanent contract, based in Brussels
• Starting date: ASAP
• A competitive compensation package based on experience
• A meaningful job that brings people together and contributes to social cohesion
• Integrate a dynamic team within an innovative project
• A position that combines field work, research and contact with many actors: mentors, mentees, associations, companies, public authorities, etc.
• A multi-faceted project developing very quickly
---
Comment postuler
To apply, send your CV and cover letter to recruitment@duoforajob.be before 9/12/2019, mentioning as the subject of the message: "Dir Advocacy". Please also mention in your message the channel through which you heard about the posting (FB, LinkedIn, website, etc.).
Date de clôture des candidatures :
Plus d'infos : www.duoforajob.be/fr/jobs-benevolat/
N'oubliez surtout pas de faire référence au Guide Social lors de l'envoi de votre candidature : c'est déjà un gage de sérieux de votre part.
(publié le )
Employeur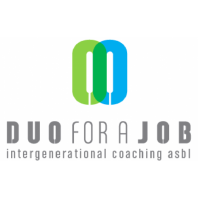 Rue de Stassart, 48
1050 Ixelles
Email :